Building Repairs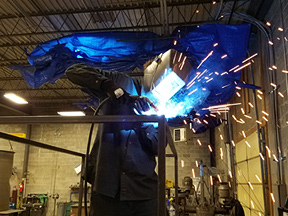 E & H Industrial Services performs all types of building repairs and maintenance for a wide range of industries. We have many AWS certified welders that specialize in all types of welding that is often needed for building repairs. We have a traveling crew of 15+ experienced welders, and our crews work all over the US, including long hours / days to help you meet your deadlines. E & H Industrial Services helps our customers solve complex building repairs and maintenance, including challenging situations. We also take pride in meeting deadlines and budgets and conducting business in an honest and ethical manner. We also offer maintenance programs to make sure routine repairs and maintenance are being done, allowing you to avoid more costly repairs at unexpected times, etc. We work with all types of industrial and commercial buildings and handle all types of repairs and maintenance, including:
Building columns
Siding & cladding
Commercial roofing
Industrial roofing
Concrete repairs
Floor repairs
Site paving
Rack repairs
Dock leveler service
Preventive maintenance
Maintenance programs
Emergency service
Outage support
Plant shutdown support
And more!
Contact Us Today at +1.317.295.2780 to see how we can help with all your industrial and commercial buildings repair and maintenance needs, as well as many other various manufacturing needs.