Structural & Safety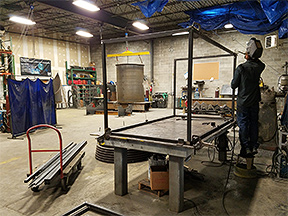 E & H Industrial Services has experience designing and fabricating all types of structures and components for industrial construction and building projects. We specialize in developing creative solutions that help our customers solve their problems and most challenging situations. We can help with designs, ideas, drawings, SolidWorks, AutoCAD, etc. We have a tremendous amount of experience in this area, and we know how to develop cost-effective solutions! E & H Industrial prides itself on making timely installations, meeting deadlines, meeting budgets, providing the highest quality work, and being honest and professional in our working relationship.
Structural and safety elements we provide includes:
Building Structures
Pipe Bridges
Mezzanines
Temporary Supports
Canopies
Platforms
Handrails
Guardrails
Pipe Bollards
Dock Leveler Pit Tubs
Stairs
Catwalks
Ladders
Equipment Guarding
And Much More!
Contact us today at +1.317.295.2780 to see how we can help with your next project.